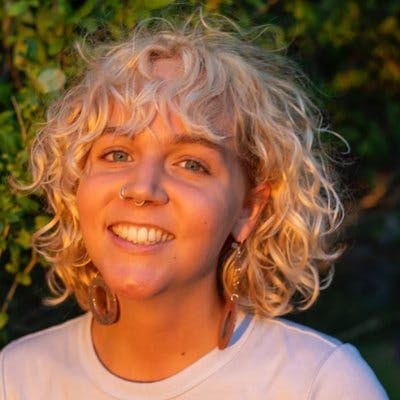 Brontë Cook
Minneapolis, MN
SHARE
< ALL POSTS
July, 19th 2021
Brontë Cook: First, will you tell me about yourself and your relationship with music?
Kyra Skye: So, my name is Kyra Skye — hi! My relationship with music is … oh my goodness. I feel like music is literally magic. It has this way of connecting us to one another. You don't even need to know the language that's being like, expressed or like what the words are being said — music, you can just feel it so viscerally. 
BC: You graduated from Ithaca College last year — tell me about that!
KS: In school I studied writing and audio production. Being able to learn about the two was really cool because like I got to learn about literal word crafting, like how to take letters, all these like blocky symbols and create meaning. Then with audio production, I learned how to move and manipulate sound waves. Put together, you can create moments that can be accessed at any time and shared like all over the world. I just think it's so cool. Recently for me, music has been about creating time capsules for my life — really trying to spindle moments and memories that I want to cherish, even the ones that are painful. 
BC: You do a lot of live performing and you also release music on Spotify. What was the transition like, when COVID hit, having to stop live performances and move completely online?
KS: So on Valentine's Day, Feb. 14 2020, I played one of the biggest shows that I have ever played in Ithaca. It was a Planned Parenthood showcase at The Haunt. It was so much fun, I got to play with all my bandmates and be surrounded by all these great people. It was filled with so much love for the music scene in Ithaca, and showed how everyone really comes out to celebrate one another and the community. 
BC: And then, COVID hit. 
KS: Yeah. We were booked up in March, we were excited. Also, during that time, I was recording my album. My bandmates and I were in the studio together, putting it together at school. Then it was spring break, then it was the end. It was really hard. It was definitely a grieving period. It made me realize how much live shows mean to me — not even just as a performer, but going to shows was a massive part of my life experience and deeply intertwined me with the community I was in.
Not having that was incredibly difficult. I found it hard to make anything for a while because being disconnected from the community aspects of music made it hard for me to also connect back to myself. So much of how I create comes from within the community. 
BC: A lot of the artists I've spoken to have talked about quarantine as one of the 'best, worst things' to happen because of all the free time they had to write and create music. Do you relate to that?
KS: I kind of went into hermit mode and wrote stuff to try to help me process things. Through that process, I wrote a bunch more songs. By December, I was like, 'Oh! I have enough material to make an album now.' 
I locked myself in my grandma's basement for like two weeks straight. I barely left that spot and just deep dived. I sang and played and sang and played and cried and played. In March and April, I mixed the whole album in my own studio, aka my room, and now it's done. Now it's in the releasing phase. It's kind of wild to be releasing it while the world is opening up. It feels very much symbolic in that way. I am grateful to be in this phase of my music while the world is in its phase of reopening and healing as well. 
BC: Have you done any live shows since things have started to reopen? 
KS: Yeah, I did one on my birthday! Oh, it was really fun. I played the show at the Kava Bar [in Ithaca on June 19.] It was put on by Ithaca Underground. They're the whole reason that I am the person that I am able to do what I do. My two best friends, also my bandmates, opened for me and then we played a song together. Everything I could have ever hoped for came together in a way that was just so beautiful. 
BC: Could you just tell me a bit about your experience with the Ithaca music scene?
KS: Well, Ithaca Underground, for one — they're amazing. It's an incredible group of individuals that care so much about music, the community, uplifting each other and bringing people together to create. Their shows cultivate a home for me inside of my own body. It's very community focused, Ithaca focused, and it's such a great mix and match of local artists and touring artists. It creates so much diversity in terms of the sounds, but also the people that come through. 
BC: Ithaca Underground is awesome, I've been to a couple of their shows. 
KS: They're the best. Then we also have Dan Smalls Presents, which put on a lot of shows at The Haunt and the State Theater. That's a whole other thing — they bring artists from literally all over. I've seen some of the coolest shows through DSP — I just saw Lake Street Dive perform at an orchard!
BC: And then there's the colleges, too. 
KS: Right! The school of music [at IC] — I've met and collaborated with so many musicians. Every weekend there's a music party somewhere, someone's having a concert at their house. They have all the college kids that are in bands perform, and also people reach out to them like, 'Hey, like I heard you put on shows at your house, can I play?' 
The music school also has shows. You want to go see a classical concert? You can go for free. It's incredible, because everyone's so talented. There's also Cornell, which also puts on great shows. I played a couple shows at Cornell. Everyone's really nice, and it's a different vibe. People from all over the place come here to play because there's such a rich community of music. Now we get to share that magic with everyone else in the community and continue to cultivate that. It's just this beautiful cycle of sharing music and passion and it's just awesome.
BC: So, you mentioned your album is in it's release phase — what can people expect from Kyra Skye moving forward?
KS: Yeah! My album Cherish This Moment comes out August 20. The first single from the album is out now, it's called Golden Hour — it's on all streaming platforms, or for purchase on Bandcamp, iTunes and my website, www.kyraskye.com.